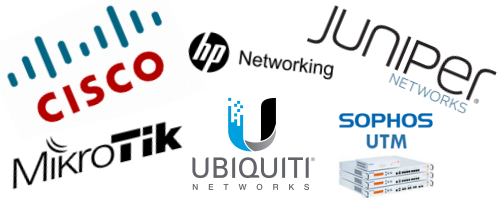 Network Equipment Sales
Because we test nearly every new piece of SoHo hardware that comes on the market, Sussex Labs has unique relationships with several large networking equipment suppliers. We are working on setting up a direct online storefront, but in the mean time, if you'd like to inquire about hardware from any of the following companies, please Contact Us at any time for a price quote.
Sussex Labs Recommends...
We routinely test, set up, and recommend the use of products manufactured by the following companies:
Cisco - The industry standard provider of Switching and Routing products. Catalyst, ISRs, ASAs, you name it - Cisco has it.
Juniper - An alternative switching, routing, and security appliance provider, Juniper has incredibly powerful and cost-effective gear.
HP - One of the original Server providers, they've expended their offerings with Procurve Networking gear, an affordable option for small offices.
Mikrotik - A Latvian manufacturer of wireless and routing gear, extremely feature-packed and extremely affordable. Probably the best-priced routers per capacity on the market today.
Ubiquiti - An up-and-comer to the networking world, Ubiquiti is taking the wireless, VOIP, routing, and switching worlds by storm. Incredibly easy solutions for almost no money. Worth checking out.
Sophos - With their acquisition of Astaro Security Gateway a few years ago, Sophos has, by far, the hands-down most intuitive, cost-effective, and feature-packed Firewall and Unified Threat Management platform on the market today.